Appliance Recycling
LOOKING FOR APPLIANCE RECYCLING IN AUSTIN, TEXAS?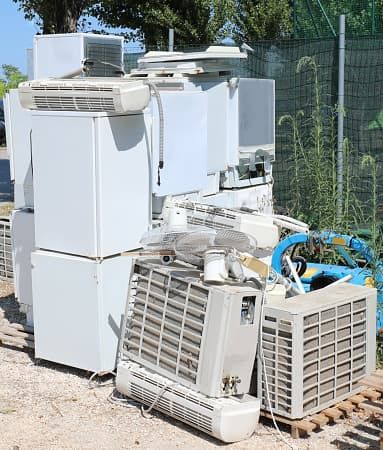 Are you wondering what to do with that refrigerator that stopped getting cold or the dryer that refused to dry? If so, we offer appliance recycling at Austin Metal & Iron. We will pay you for your non-working appliances and recycle them in an environmentally-responsible way!
KEEPING OLD APPLIANCES OUT OF THE LANDFILL
Appliance removal is just the first step in updating your kitchen or laundry room with new appliances. The next step is figuring out what to do with the old appliances. If they still work, many charities would be happy to receive them. But what about appliances that are either on their last legs or don't work at all?
Appliance disposal can be a tricky business, especially if the appliances don't work. That's where Austin Metal & Iron comes in! We'll take those dilapidated appliances and give them new life by recycling them.
Appliances are bulky and sometimes contain harmful components like ozone-depleting chemicals. Their size and potential contaminants are good reasons to keep them away from landfills. Properly recycling them enables the various metals and other parts of a defunct appliance to become new and effective products. Recycling is great for the environment, too, since recycling metal reduces the need for environmentally hazardous mining operations.
AIR CONDITIONER RECYCLING
Has your air conditioner lost its ability to keep you cool? It's probably time to recycle it if it is more than 15 to 20 years old. According to Energy.Gov, that is the average lifespan of central air conditioners. It's almost certainly less for smaller air conditioners.
Since newer appliances are more energy efficient than older models, you will stay cooler while saving money when you replace your old air conditioner. Energy.Gov says you will save 20% to 40% of the energy costs that go to cooling if you replace any air conditioner that is more than ten years old.
You'll even earn back when you recycle the old unit to Austin Metal & Iron. That's right! We will pay you when we take your old air conditioner off your hands!
OTHER APPLIANCES WE RECYCLE
Our motto at Austin Metal & Iron is, "If it's metal, we buy it." That includes all types of appliances, including but not limited to:
Small appliances like toasters and coffeemakers

Stoves

Wall ovens

Dishwashers

Trash compactors

Microwaves

Refrigerators

Wine coolers

Freezers

Washers

Dryers
Do you have an appliance that isn't on this list? That's okay; we will still buy it! Bring it to one of our two convenient locations in Austin, East 4th and Decker Lane.
APPLIANCE RECYCLING IN AUSTIN, TX
At Austin Metal & Iron, we are experts at recycling metal of all kinds — including unwanted appliances. We will buy your old appliances at a fair price for the metal. Most importantly, we'll keep them (and their harmful contaminants!) out of the landfill.
Instead of unnecessarily filling the landfill, your old appliances will become new products. One of the remarkable things about metal is that it can be recycled repeatedly. Part of yesterday's stove may well become tomorrow's microwave!
WHY RECYCLE YOUR APPLIANCES AT AUSTIN METAL & IRON?
Our family-owned and operated business has been recycling metals since 1913. That is when brothers Jim and Sam Novy started the company that our family still operates today. Back then, Austin Metal and Iron was Austin's first metal recycling business. We're proud to continue our family's tradition to this day. If you have appliances or any other metal items to recycle, bring them to Austin Metal & Iron.
A team member will weigh your items, and we will give you a quote for purchasing them. You'll leave with the money and the satisfaction of knowing that your old appliances will be recycled rather than going to the landfill. If you have questions about recycling your old appliances, please don't hesitate to call us.
Image Source: ChiccoDodiFC/gettyimages